Affiliate marketing has evolved into a dynamic and highly profitable business model. To thrive in this competitive landscape, affiliates and businesses alike rely on affiliate software programs to manage and track their partnerships effectively.
When it comes to choosing affiliate marketing software the variety is vast. Some of them are built for specific verticals, while others are built for general use.
You should bear in mind that once you choose your new software, it is like a catholic wedding—there is no going back. And if you do want to change software, the process is very complex and will include losing a lot of data.
So before you choose, make sure you list all the things you are going to need from your affiliate platform. What are you going to offer your affiliates and partners today and in a year's time, and does the platform support it?
The list of affiliate platforms can be long, down below, we've listed our favourite ones that we actually worked with.
What is an Affiliate Marketing Software?
Affiliate marketing software is a specialized tool or platform designed to facilitate and manage affiliate marketing programs. It serves as a central hub for businesses to create, launch, and oversee their affiliate marketing initiatives. The primary goal of affiliate marketing software is to streamline the processes involved in managing relationships with affiliates, tracking their performance, and ensuring accurate commission payouts.
Whether you're a seasoned affiliate marketer or a business looking to set up your own affiliate program, these software solutions offer diverse opportunities for success.
1. Everflow
Everflow, established in 2012 and headquartered in San Francisco, USA, caters to medium to large businesses. Known for its transparent pricing, advanced analytics, and anti-fraud measures, Everflow empowers businesses to manage and optimize their affiliate programs effectively.
Pros:
Transparent Pricing: Everflow is known for its transparent and straightforward pricing structure, making it easier for businesses to budget their affiliate marketing expenses.
Advanced Analytics: The platform offers in-depth analytics and reporting, providing affiliates and businesses with valuable insights into campaign performance and conversions.
Comprehensive Partner Management: Everflow provides a suite of tools for partner management, allowing businesses to efficiently manage their affiliate relationships and performance.
Anti-Fraud Measures: The platform incorporates robust anti-fraud features to help businesses protect their affiliate marketing campaigns from fraudulent activities.
Cons:
Learning Curve: Some users may find Everflow's interface and features somewhat complex, which could require time to become proficient.
Integration Challenges: While Everflow does offer integration options, some users may encounter difficulties when trying to integrate it with other software or tools.
Price Consideration: While the pricing is transparent, some businesses might still find Everflow's cost relatively high, especially if they are operating on a tight budget.
Pricing: Custom pricing based on business needs.
2. Post Affiliate Pro
Post Affiliate Pro, founded in 2004 in Prague, Czech Republic, offers a versatile solution suitable for small to large businesses. With customizable features, comprehensive analytics, and robust anti-fraud measures, it's a trusted choice for businesses aiming to elevate their affiliate marketing efforts.
Pros:
Customizable: Post Affiliate Pro offers high customization, allowing businesses to tailor their affiliate programs to their specific needs.
Comprehensive Features: The software provides an array of features, including multilingual support, social sharing, and extensive tracking options.
Reliable Tracking: Users commend the software for its dependable tracking and reporting capabilities.
Cons:
Learning Curve: Post Affiliate Pro may have a learning curve, especially for users new to affiliate marketing software.
Pricing: While feature-rich, the software's pricing can be on the higher side for smaller businesses.
Pricing: Starting at $97 per month.
3. Affise
Founded in 2016 and based in Vilnius, Lithuania, Affise is a user-friendly platform suitable for small to medium businesses. Its real-time analytics and customizable payout structures make it an attractive choice for businesses seeking simplicity and scalability.
Pros:
User-Friendly: Affise is known for its user-friendly interface, making it accessible for affiliates and businesses of all sizes.
Real-Time Reporting: The software offers real-time reporting and analytics, enabling affiliates to monitor their performance.
Scalability: Affise is highly scalable, accommodating both startups and enterprises.
Cons:
Pricing: Some users find Affise's pricing to be relatively high, especially for businesses operating on a tight budget.
Limited Features: In comparison to some other platforms, Affise may offer fewer advanced features.
Pricing: Starting at $299 per month.
4. PartnerStack
Toronto-based PartnerStack, established in 2015, provides a unique approach by not only offering software but also access to a partner ecosystem. With versatile commission structures, it suits medium- to large-sized businesses looking for collaborative affiliate marketing solutions.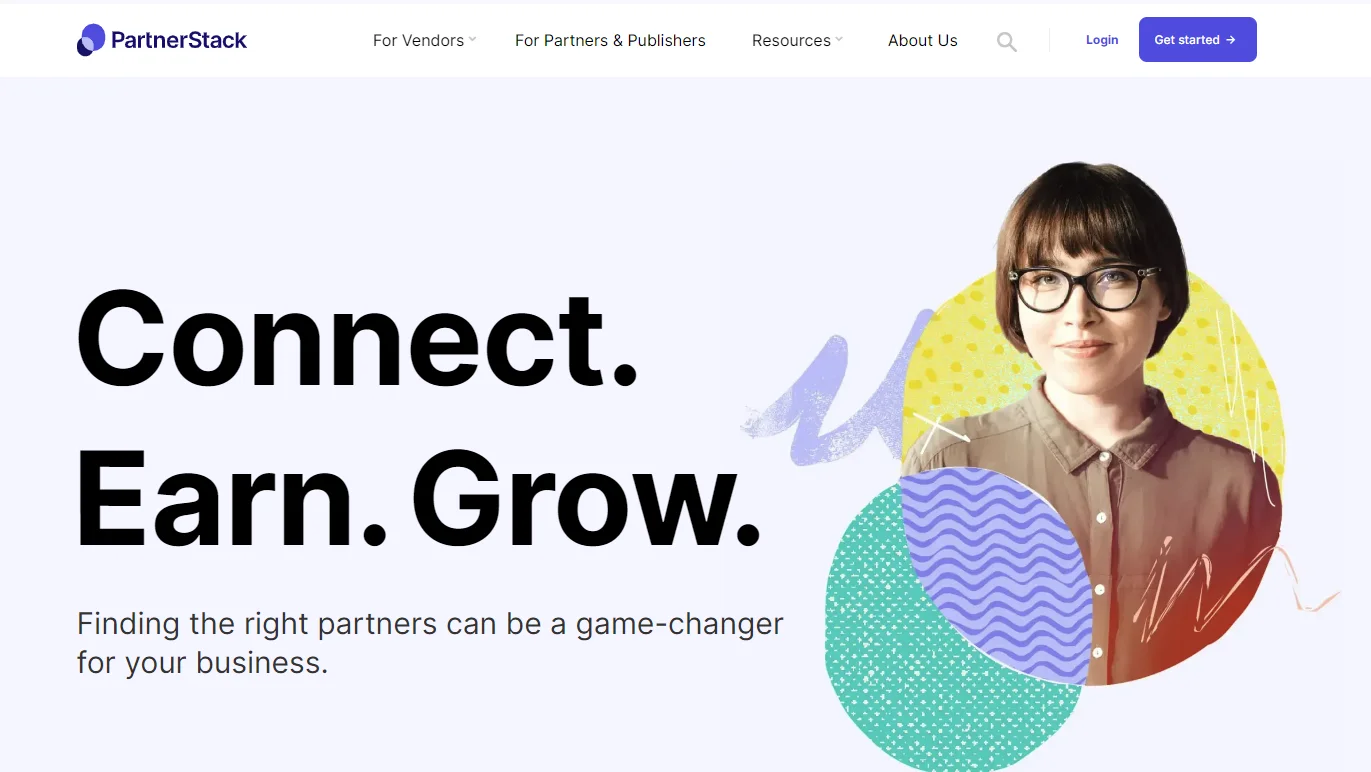 Pros:
Partner Ecosystem: PartnerStack is more than just software; it provides access to a network of potential partners, making it easier to grow your affiliate program.
Integration-Friendly: The platform offers seamless integration with various tools, including CRMs and marketing automation software.
Versatile Commission Structures: PartnerStack allows businesses to set up diverse commission structures tailored to their needs.
Cons:
Pricing Complexity: Pricing can be complex and is typically tailored to each business, making it challenging to determine the cost upfront.
Training Required: For some users, effectively utilizing all the features of PartnerStack may require additional training.
Pricing: Custom pricing based on business needs.
5. Tapfiliate
Amsterdam's Tapfiliate, founded in 2014, is an affordable solution tailored for small to medium businesses. Its intuitive dashboard, unlimited affiliates, and ease of setup make it an accessible choice for those entering the affiliate marketing space.
Pros:
Affordable: Tapfiliate is known for its affordability, making it a compelling choice for startups and small businesses.
Intuitive Dashboard: The software boasts an intuitive dashboard that simplifies the management of affiliates and tracking of conversions.
Unlimited Affiliates: Tapfiliate offers unlimited affiliates even in its entry-level pricing tier.
Cons:
Feature Limitations: While cost-effective, the software may lack some advanced features that larger businesses require.
Customization: Some users find the level of customization to be limited compared to other platforms.
Pricing: Starting at $69 per month.
6. Refersion
Founded in 2015 in New York City, Refersion is designed for small to medium businesses. With its easy setup, transparent analytics, and an affiliate directory, Refersion simplifies the process of launching and managing affiliate programs.
Pros:
Easy Setup: Refersion is praised for its quick and straightforward setup process, allowing businesses to launch their affiliate programs with ease.
Affiliate Directory: The software includes an affiliate directory, making it simpler for affiliates to find and join relevant programs.
Transparent Analytics: Users appreciate Refersion's transparent and accessible analytics, which help track conversions and performance.
Cons:
Advanced Features: Some businesses may find Refersion lacks the advanced features and capabilities they require.
Pricing: While reasonable, the software's pricing may not be the most budget-friendly option for all businesses.
Pricing: Starting at $89 per month.
7. Impact Radius (now known as Partnerize)
Impact Radius, established in 2008 and headquartered in Santa Barbara, USA, is a comprehensive solution suitable for large enterprises. With a global reach, diverse verticals, and a wide range of affiliate marketing tools, Impact Radius stands out for businesses aiming for a sophisticated and expansive approach.
Pros:
Comprehensive Solution: Impact Radius provides a comprehensive suite of affiliate marketing tools, including media buying and optimization features.
Global Reach: The platform supports businesses looking to expand globally, offering multi-currency and multi-language capabilities.
Diverse Verticals: Impact Radius caters to various industries, making it suitable for a wide range of businesses.
Cons:
Complexity: The software can be complex to master, especially for users new to affiliate marketing software.
Higher Pricing: Impact Radius' pricing can be relatively higher, which may not be the best fit for smaller businesses.
Pricing: Custom pricing based on business needs.
8. Tune (HasOffers)
TUNE, founded in 2008, is a global affiliate marketing platform suitable for medium to large enterprises. With comprehensive tracking, customizable payout structures, and real-time analytics, TUNE empowers businesses to optimize their affiliate programs globally.
Pros:
Comprehensive Tracking: TUNE offers robust tracking capabilities, providing detailed insights into affiliate activities, conversions, and campaign performance.
Customizable Payout Structures: The platform allows for the customization of payout structures, enabling businesses to tailor their affiliate programs according to their specific needs.
Real-Time Analytics: TUNE provides real-time analytics and reporting, allowing users to monitor affiliate marketing activities and make data-driven decisions promptly.
Global Reach: TUNE supports businesses looking to expand globally, offering features like multi-currency and multi-language support for a broader reach.
Intuitive Interface: The platform is known for its user-friendly and intuitive interface, making it accessible for users with varying levels of technical expertise.
Cons:
Complex Pricing Structure: Some users may find TUNE's pricing structure complex, and businesses might need to carefully assess the cost implications based on their scale and requirements.
Learning Curve: While the interface is user-friendly, there may still be a learning curve for users who are new to affiliate marketing software.
Customization Limitations: In comparison to some other platforms, users may find certain limitations in terms of customization options for advanced features.
Pricing: Custom pricing based on business needs.
9. Affiliatly
Affiliatly, with a user-friendly interface, is designed for small to medium businesses. Founded in 2015, it simplifies affiliate marketing with features like easy setup, real-time analytics, and affordable pricing.
Pros:
User-Friendly Interface: Affiliatly boasts a user-friendly interface, making it easy for businesses to set up and manage their affiliate programs without a steep learning curve.
Affordable Pricing: The platform offers affordable pricing plans, making it accessible for small to medium-sized businesses looking to implement an affiliate marketing strategy without breaking the bank.
Real-Time Analytics: Affiliatly provides real-time analytics, allowing businesses to track affiliate performance instantly and make data-driven decisions for optimizing their campaigns.
Customizable Commission Structures: Users can customize commission structures, enabling businesses to tailor their affiliate reward system based on specific goals and objectives.
Integration Options: Affiliatly offers integration with various e-commerce platforms, simplifying the process for businesses using different systems.
Automated Payouts: The platform supports automated payouts, streamlining the process of compensating affiliates and reducing administrative burdens.
Cons:
Limited Features on Basic Plans: Some advanced features are only available on higher-tier plans, which may limit the functionality for businesses on the basic pricing tier.
May Lack Advanced Functionality: While suitable for small to medium-sized businesses, Affiliatly may lack some of the advanced features and scalability required by larger enterprises with more complex needs.
Dependency on E-commerce Platforms: Affiliatly's functionality can be dependent on the features and limitations of the integrated e-commerce platforms, potentially affecting the range of tools available to users.
Customization Limitations: While customizable, some users might find limitations in fully adapting the platform to highly specific or unique affiliate program structures.
Customer Support Responsiveness: Some users have reported varying levels of customer support responsiveness, which could be a concern for businesses requiring immediate assistance.
Limited Reporting Features: The reporting features, while real-time, may be considered basic compared to more robust analytics offered by some competitors.
Pricing: Starting at $16 per month.
10. iDevAffiliate
iDevAffiliate, established in 1999, caters to businesses of all sizes. With features like commission tracking, easy integration, and a range of marketing materials, it provides a comprehensive solution for affiliate marketing.
Pros:
Longevity and Reliability: iDevAffiliate has been in the market since 1999, showcasing its longevity and reliability. Businesses often appreciate a platform with a proven track record.
Scalability: iDevAffiliate is suitable for businesses of all sizes, offering scalability as a company's affiliate marketing needs grow.
Comprehensive Tracking: The platform provides comprehensive tracking capabilities, allowing businesses to monitor and analyze affiliate performance with accuracy.
Flexible Commission Structures: iDevAffiliate supports flexible commission structures, giving businesses the freedom to customize their affiliate reward systems based on specific criteria.
Integration Options: It integrates with a variety of e-commerce platforms, making it adaptable for businesses using different systems.
Affiliate Marketing Materials: iDevAffiliate offers a range of marketing materials that affiliates can use, contributing to a more effective and cohesive marketing strategy.
Cons:
Interface Complexity: Some users may find the interface somewhat complex, especially for beginners. A steeper learning curve could be a drawback for those new to affiliate marketing.
Outdated Interface Design: While the platform is robust, the design of the user interface may feel outdated compared to more modern and visually appealing competitors.
Customer Support Response Time: Users have reported varying levels of customer support responsiveness, with some experiencing delays in obtaining assistance.
Pricing Structure: The pricing structure may be seen as less transparent, with users noting that some features may require additional costs beyond the base subscription.
Limited Reporting Customization: While offering comprehensive tracking, the customization options for reporting may be limited compared to platforms with more advanced analytics.
Integration Challenges: Some users have faced challenges with integrations, particularly if they use less common or specialized e-commerce platforms that may not be fully supported.
Pricing: Starting at $39 per month.
What to look for when choosing affiliate marketing software?
User-Friendly Interface:

Look for software with an intuitive and user-friendly interface. This is important for easy navigation and efficient management of your affiliate program.

Scalability:

Ensure the software can scale with your business. It should accommodate the growth of your affiliate program, whether you're just starting or planning significant expansion.

Comprehensive Tracking and Analytics:

Opt for software that provides detailed tracking and analytics. This includes real-time reporting on clicks, conversions, and commissions, allowing you to make informed decisions based on data.

Affiliate Management Features:

Choose software that offers robust affiliate management features. This includes the ability to recruit, communicate with, and manage affiliates effectively.

Commission Flexibility:

Look for flexibility in commission structures. The software should allow you to set different commission rates for various products or affiliate tiers to incentivize performance.

Integration Options:

Check for compatibility with your existing systems. The software should integrate seamlessly with your e-commerce platform, CRM, and other tools you use for streamlined operations.

Marketing Material Support:

Ensure the software supports the creation and distribution of marketing materials. This helps affiliates promote your products or services more effectively.

Reliability and Reputation:

Research the software's reputation and reliability. Choose a platform with a proven track record to minimize the risk of technical issues and ensure ongoing support.

Customization Options:

Consider the level of customization the software offers. This includes the ability to tailor the appearance of affiliate dashboards, commission structures, and communication templates.

Customer Support:

Evaluate the quality of customer support. Responsive and knowledgeable support is crucial for resolving issues promptly and ensuring a smooth experience for both you and your affiliates.

Security and Fraud Prevention:

Prioritize software with robust security measures to protect your program from fraud. This includes features like anti-fraud detection and prevention tools.

Pricing Structure:

Understand the pricing structure and ensure it aligns with your budget. Some software operates on a monthly subscription basis, while others may charge based on the number of affiliates or transactions.

Trial Period or Demo:

Take advantage of any trial periods or demo versions offered by the software. This allows you to explore its features and functionality before making a commitment.
Conclusion
The right affiliate software program is an essential component of a successful affiliate marketing strategy. Each of the top 6 platforms presents unique strengths and limitations, making the choice a matter of aligning your niche, goals, and budget with the features and opportunities provided by the software. Whether you opt for the flexibility of Post Affiliate Pro, the affordability of Tapfiliate, or any other platform, affiliate software programs empower businesses and affiliates to build, manage, and scale profitable partnerships. Successful affiliate marketing begins with choosing the software that aligns most closely with your specific needs and ambitions.
So it doesn't matter if you are looking to build your affiliate department from scratch or optimise your existing one; RnD Marketing can be your one-stop-shop for all your affiliate marketing needs.